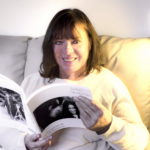 Brigid Grauman
Brigid Grauman is a journalist and author who for 17 years was editor-in-chief of The Bulletin, Brussels' English-language newsweekly. She has written for leading British and US media on a wide range of cultural topics. Her book, Uncle Otto's Puppet Theatre, is available in English, German and Czech and is based on seven family memoirs.
Books by Brigid Grauman
It meant a lot to me because my sister and I don't have much family. We have three cousins in America and that's it. It's also about not having an identity—feeling neither Irish nor Belgian. I owned these seven memoirs written by family members that served as the basis for the book, and lots of photos, so I felt I had a duty to put this story together.
But writing it also made me feel much more connected to my transgenerational inheritance, to the fact that I am the great-granddaughter of a schnapps bar owner in Vienna. Now I am going to write about the other side of my family, which is Irish. The two books will be a diptych. Maybe I'll feel incredibly Irish after I'm done with that, but I don't think it'll be quite the same. For me, being Jewish is also about this feeling of not belonging anywhere, or of belonging in many places.
The best books on Jewish Vienna recommended by Brigid Grauman
Interviews with Brigid Grauman
In the late 19th and early 20th century, Vienna had a vibrant intellectual and cultural life, embraced and at times led by key figures in its large Jewish community. All that would disappear with the rise of anti-Semitism and the Anschluss. Many Jews fled or committed suicide. Others were deported to concentration camps. After the war some went back, but Vienna would never be the same. Here Brigid Grauman, whose father's family were assimilated Jews from Vienna, recommends books that evoke that poignant, tragic period that ended with World War II.