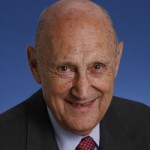 Burton Malkiel
Burton Malkiel is an economics professor (emeritus) at Princeton University and author of the 1973 classic A Random Walk Down Wall Street.
Books by Burton Malkiel
A Random Walk Down Wall Street by Burton Malkiel is a great book for getting a handle on how markets operate, recommended by many finance professors as the place to start to understand finance. It's a famous introduction to the whole process of investing and whether it is possible consistently to outperform the market.
Perhaps the biggest service A Random Walk Down Wall Street performs is that it teaches you to develop a sceptical attitude to financial service professionals in general, and fund managers in particular. It was a bestseller when it came out in the 1970s and it still is.  No pre-knowledge of economics or finance necessary to enjoy it.