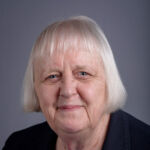 Carole Hillenbrand
Carole Hillenbrand is Professor Emerita of Islamic History at the University of Edinburgh and Professorial Fellow of Islamic History at the University of St Andrews. In 2005 she was awarded the King Faisal Prize for Islamic Studies,  the first non-Muslim to be awarded this prize.
Books by Carole Hillenbrand
"It's a classic. It covers the whole period of the struggle. It shows how the Muslims saw 'the Franks', and all the religious and ethnic stereotypes that were being bandied about during this long period of cultural interaction." Read more...
The best books on The Crusades
Guy Perry, Historian
Interviews with Carole Hillenbrand
Every year the Wolfson History Prize celebrates books that combine meticulous and original research with great writing, accessible to the general reader.  Here, one of the 2022 judges, the eminent Islamic scholar Carole Hillenbrand, guides us through the shortlist to explain why each book is a must-read.
Which were the best history books published this past year? Each year, the UK's Wolfson Prize tries to sort through the hundreds of history books that are published to find outstanding books that are both important and readable. Wolfson Prize judge Carole Hillenbrand introduces the six books that made 2018 shortlist.
Interviews where books by Carole Hillenbrand were recommended
Once seen as a great romantic adventure, the Crusades tend to be viewed now as an early venture in Western imperialism. But, as the Oxford historian Guy Perry explains, there is nothing so simple about them. He chooses five books that get to the complex truth of the Crusades as historical phenomena.