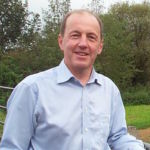 Chris Goodall
Chris Goodall is an author and expert on renewable energy technologies. He runs the Carbon Commentary blog.
Interviews with Chris Goodall
The switch to sources of energy other than oil and gas is now well under way, but how long will it be before we can rely on them for the bulk of the world's power—if ever? Renewable energy expert Chris Goodall gives us a thought-provoking reading list to think about both past and future 'energy transitions.'
Interviews where books by Chris Goodall were recommended
The environment writer suggests the best reading on carbon costs, climate science and technological solutions to save the planet
Conservation and the battle against climate change are two of the most pressing issues of our age. But books on the subject have to be readable and enjoyable too, says Charlotte Smith – BBC presenter and judge for the 2020 Wainwright Prize for books on global conservation. Here she highlights the six shortlisted titles that will enchant and inspire you.