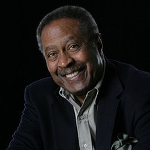 Clarence B Jones
Clarence B Jones is the former personal counsel, adviser, draft speech writer and close friend of Dr Martin Luther King, Jr. He is Scholar in Residence at the Martin Luther King Jr Research and Education Institute at Stanford University.
Books by Clarence B Jones
"I have a dream." When those words were spoken on the steps of the Lincoln Memorial on August 28, 1963, the crowd stood, electrified, as Martin Luther King, Jr. brought the plight of African Americans to the public consciousness and firmly established himself as one of the greatest orators of all time. Behind the Dream is a thrilling, behind-the-scenes account of the weeks leading up to the great event, as told by Clarence Jones, co-writer of the speech and close confidant to King. Jones was there, on the road, collaborating with the great minds of the time, and hammering out the ideas and the speech that would shape the civil rights movement and inspire Americans for years to come.
Interviews with Clarence B Jones
Which were the best speeches ever made? Clarence B Jones, lawyer, friend and adviser to Martin Luther King Jr—and contributor to the 'I Have a Dream' speech—chooses his top five, and explains what is that makes these famous speeches so good.
Books by Clarence B Jones