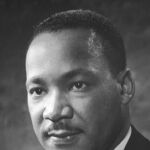 Martin Luther King Jr
Martin Luther King Jr, born Michael King Jr (1929 – 1968), was an American minister and civil rights activist. He was assassinated in 1968.
Professor Lerone Martin recommends Bearing the Cross as a book about Martin Luther King Jr, in the best books on the civil rights era. "This book is a Pulitzer Prize winner. It became a standard narrative of King's life and the life of the Southern Christian Leadership Conference. It's an amazing book."
Books by Martin Luther King Jr
"Personally, I think the Letter From the Birmingham Jail from Martin Luther King was as eloquent and as influential a document on the civil rights movement and progressive thinking about rights as anything that I've ever read. It's one of the most powerful pieces I've ever read, period. On Martin Luther King day it's one of my favourite things to remind me, it's so powerful. It's unfortunate many people have never read it or if they have they have forgotten the power of it." Read more...
The best books on Progressivism
John Kerry, Politician
"The 'I Have A Dream' speech, the portion that is most talked about, was totally spontaneous and extemporaneous. It wasn't written." Read more...
Clarence B Jones, Lawyer
Interviews where books by Martin Luther King Jr were recommended
Which were the best speeches ever made? Clarence B Jones, lawyer, friend and adviser to Martin Luther King Jr—and contributor to the 'I Have a Dream' speech—chooses his top five, and explains what is that makes these famous speeches so good.
John Kerry, the 68th United States Secretary of State, picks five books that every progressive should read, and discusses the divide in America between the haves and have-nots
As American congressman Keith Ellison—the first Muslim elected to Congress—enters the race to chair the Democratic National Committee, reread this interview on the cause he stands for: progressivism — and the best books to read to fully understand it.