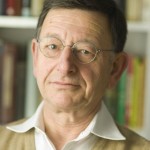 David Bellos
David Bellos is Professor of French and Italian and Comparative Literature and Director, Program in Translation and Intercultural Communication at Princeton University.
Interviews with David Bellos
Booker Prize-winning translator David Bellos says Les Misérables is the greatest novel of all time. When it came out, "it was an event bigger than the launch of Titanic and Avatar put together." He picks the five greatest French novels.
Interviews where books by David Bellos were recommended
For the general reader deconstruction has a bad reputation. It is seen as over-complicating, arcane and wilfully obscure—but as its founding genius Jacques Derrida pointed out, "If things were simple, word would have gotten around." Here Peter Salmon, author of an excellent new biography of Derrida, chooses five books to get you started on the text and everything inside it.