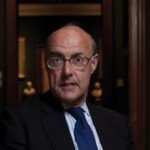 David Cannadine
Professor Sir Professor Cannadine FBA is a historian of modern British history from 1800 to 2000. He is currently Dodge Professor of History at Princeton University and has previously taught at Cambridge, Columbia, and London, where he was Director of the Institute of Historical Research. Since October 2014, David has been Editor of the 
Oxford Dictionary of National Biography
.
Interviews with David Cannadine
The history professor tells us why it's less interesting to argue about whether the Empire was a force for good or ill, than to understand how it worked and why it fell apart. He suggests a reading list to get us started.
Interviews where books by David Cannadine were recommended
British novelist and poet Adam Foulds discusses fading empire in the context of Kenya, including the horrors of British gulags, the Mau Mau uprising, and the social deprivation endured by the Kikuyu.