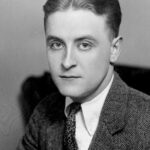 Books by F. Scott Fitzgerald
It's so interesting because if you look at F Scott Fitzgerald – I'm thinking about Tender is the Night – by then you really have this obsession with sunbathing. 

Well, the discovery of the Riviera at the turn of the 20th century was a revolution in habits. And although one thinks it was a literary circle, it was the moneyed set who went to southern France and northern Italy, and made it their home. That was taken up in the literature of the time and became part of the new culture.
The Great Gatsby is F Scott Fitzgerald's classic novel, set during a hedonistic zenith before the Great Depression.
"Gatsby is a book that is, in some ways, ambivalent about glamour and wealth. It entices us with the glamour of the parties and the wonderful material aspects of Gatsby's life – but it shows that his falling for the false promises of materialism destroys him"—from out interview with Sarah Churchwell on the best books on The Great Gatsby  
We also highly recommend the audiobook, in which BAFTA-winning actor Jake Gyllenhaal becomes Nick Carraway, our guide  through the glittering yet destructive pull of materialism in pre-Depression New York. He portrays all the ambivalences of Fitzgerald's narrator, thrown into this world of decadence and obsession, while breathing new life into this endlessly re-readable novel.
"It's about a studio executive called Monroe Stahr… Fitzgerald never really did make anything much at the movies, but he wrote this wonderful book which is his last and, though it's sadly unfinished, I think would have been maybe his best. It's not insidery: it manages to be a story that everybody can understand, and I suppose we're all fascinated by the movies." Read more...
Marina Hyde, Journalist
Interviews where books by F. Scott Fitzgerald were recommended
The best books on Hollywood. 'Smart people went to the ballet and opera, and what the poor and lower middle classes did with their time didn't matter. But these men in Hollywood had a vision and were creating this product that was loved by everybody of all different backgrounds.'
Albeit an object of satire and overreach, the 'Great American Novel' remains a vital concept in American literature, encouraging writers to capture the essence of national culture and history, argues Lawrence Buell, Professor of American Literature Emeritus at Harvard University. He talks us through the origins of the phrase and nominates five novels as contenders.
Since its birth in the early twentieth century, the Myers-Briggs Type Indicator (MBTI) has become the most popular personality test in the world. Here, Merve Emre, author of the new book The Personality Brokers: The Strange History of Myers Briggs and the Birth of Personality Testing, recommends five books that reveal how the language of 'type' has seeped into the marrow of American civic institutions and social life—from Fortune 500 companies to Breakfast at Tiffany's.