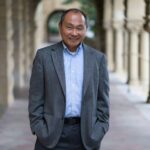 Francis Fukuyama
Francis Fukuyama is an American political scientist and author. He is Senior Fellow at Stanford University's Freeman Spogli Institute for International Studies and Mosbacher Director of FSI's Center on Democracy, Development, and the Rule of Law (CDDRL), and Director of Stanford's Masters in International Policy Program. Fukuyama writes widely on issues relating to democratisation and international political economy, and first shot to prominence with an article "The End of History?" in 1989.
Books by Francis Fukuyama
Interviews with Francis Fukuyama
Even some of the world's most authoritarian rulers continue to pay lip service to democracy and people's right to vote for their leaders, but the days when many social scientists believed that all countries at a certain level of prosperity would eventually turn to liberal democracy are over, says Francis Fukuyama, now a Senior Fellow at Stanford University's Freeman Spogli Institute. Here, he recommends books to better understand liberal democracy, and what those of us lucky enough to live in one can do to protect our form of government.
The author of "The End of History" says the financial crisis revealed a great deal about the nature of America's political and economic system. The shame, he says, is that opportunities to change it are now being ignored.
Interviews where books by Francis Fukuyama were recommended
Armed with one of the 'big histories' currently in vogue, The Hitchhiker's Guide to the Galaxy and a tome about how modern maths came to be, you too can get a grip on how the world works. Tech blogger Venkatesh Rao chooses some good books for those who agree with Socrates that 'for a human being, the unexamined life is not worth living.'
Books by Francis Fukuyama