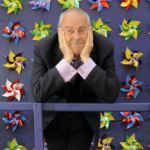 Gyles Brandreth
Gyles Brandreth is a writer, broadcaster, and former MP who, over forty years, has worked in the theatre as an actor and producer. He is a reporter on the BBC's The One Show, a regular on Radio 4's Just A Minute, and has appeared on Have I Got News For You, QI and Countdown. He is the editor of the Oxford Book of Humorous Quotations, president of the Oscar Wilde Society, founder of the Poetry Together project, and Chancellor of the University of Chester.
Books by Gyles Brandreth
This book paints an affectionate portrait of Prince Charles and Camilla and their relationship. Camilla suffered years of abuse after the whole saga of Diana's misery was exposed. But, as Brandreth illustrates, she's good company, good for Prince Charles and always has been. This is the happy (if not fairy-tale) ending of the story.
"It's a great read. It makes you laugh out loud but it's also incredibly insightful. It achieves the astonishing feat of making you like Gyles. You start to read it thinking he's a prat, but you begin to like him by the end of it and you realise he's quite clever and insightful. And, of course, it's a fantastic insight into a declining government that's about to die." Read more...
The best books on Parliamentary Politics
Philip Cowley, Political Scientist
Interviews with Gyles Brandreth
The author and broadcaster Gyles Brandreth selects five of his favourite books about the theatre from the thousands that grace his bookshelves, taking in nonfiction, histories of music hall and amateur dramatics, plus a 16th century 'romp' starring one William Shakespeare.
Interviews where books by Gyles Brandreth were recommended
From the House to the duck house, political scientist Philip Crowley recommends the best books on parliamentary politics.
The Mail on Sunday's Royal Correspondent, Katie Nicholl, looks at how the histories of the previous generation have shaped Princes William and Harry. She picks the best books on the British royals.