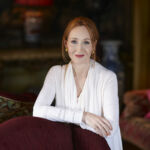 J.K. Rowling
Joanne (J.K.) Rowling is a British novelist who also writes under the name Robert Galbraith. With the first book appearing in the UK in the summer of 1997, it was the Harry Potter series that made her internationally famous. Aimed at children, the wry touches of humour make the books fun for adults to read too (and reading the series aloud to quite young children perhaps the best combination of all). As well as a series of companion volumes—often written in support of charities—Rowling gradually also turned her hand to writing books for adults.
Most of her books for adults are part of a detective series, written under the pen name Robert Galbraith. However, J.K. Rowling also wrote the standalone novel The Casual Vacancy in her own name, a disturbing portrait of life in a small English town.
Interviews where books by J.K. Rowling were recommended
Entering the magical world of Harry Potter is a wonderful gift for any child, and finding a beautiful edition can be an important part of the journey. Here, our Children's Editor selects personal favourites among the most beautiful Harry Potter books and recommends the best gift editions.