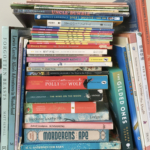 Our Children's Editor
Our children's editor is in charge of the kids' books recommendations on Five Books. As well as interviews with authors and experts, the best kids' books of 2022 and the best teen books of 2022 are handpicked to bring you the very best books for kids as they are published.
Interviews with Our Children's Editor
Of the many children's books published in Chinese, few make their way into translation. Here, our Children's Editor picks five outstanding Chinese picture books that are available for readers around the world to enjoy in English.
Entering the magical world of Harry Potter is a wonderful gift for any child, and finding a beautiful edition can be an important part of the journey. Here, our Children's Editor selects personal favourites among the most beautiful Harry Potter books and recommends the best gift editions.