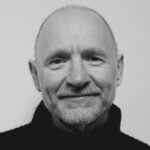 James Robertson
James Robertson is a poet, editor and writer of fiction. He has published seven novels, including The Fanatic (2000), Joseph Knight (2003, recipient of both the Saltire Society and Scottish Arts Council Book of the Year awards), The Testament of Gideon Mack (2006, long-listed for the Man Booker Prize), and And the Land Lay Still (2010, Saltire Book of the Year). He is also the author of four short story collections, most recently 365: Stories which was the basis for a live show and on-line collaboration with folk fiddle player and composer Aidan O'Rourke). James Robertson is also co-founder and general editor of the Itchy Coo imprint, which produces books in Scots for young readers.
Books by James Robertson
*** Winner of the 2022 Walter Scott Prize for Historical Fiction ***
I've been thinking about it for about five years, so it's taken a while for it to come together. I wanted to write a novel that was set in one place, but that took place over a huge amount of time. So I invented this glen, Glen Conach, which is, in my head, not far from where I live. There are three stories going on: the story of Conach himself, an 8th-century Christian missionary to the Picts who becomes a hermit in the glen; then a story set in the early 1800s, where Charles Gibb comes to the big house in the glen to look at this manuscript about the life of Conach; and finally a modern story narrated by a woman called Maya, one of the oldest residents of the glen in the year 2020.
It would appear that there are no connections among these stories other than the fact that they're taking place in the one place, but the more you read, the more you realise there are threads linking them. Themes of refuge, of arriving and leaving and looking for a place of safety. That's one of the biggest questions facing us today: people are on the move, forced to move because of war, famine, lack of jobs, political collapse, whatever it is. People are on the move because they want a better or safer life for themselves and their children. Who can deny that that is a legitimate and basic aspiration for any human being?
Landmarks of Scottish Literature
"Behind the beguiling, interlinked narrative of three characters from different periods of history—an Iron Age hermit, a nineteenth-century literary conman, and a child thrown out into the world from war-torn Europe—is a profound appreciation of a landscape, the rocks, the rain, the streams, trees and mosses of the remote Scottish glen where these three lives are lived. In our own restless, shifting times many of us have lost any sense of rootedness to a particular place. James Robertson's novel draws us gently back to contemplate the importance of place and nature in our lives. For many of us, an appreciation of our homes and our surroundings has been one good thing that we will take away from our months in lockdown." Read more...
The Best Historical Fiction: The 2022 Walter Scott Prize Shortlist
Elizabeth Laird, Novelist
Interviews with James Robertson
Scottish culture is best understood as related to, but distinct from, that of Britain or England, says the acclaimed novelist James Robertson. Here, he selects five landmark works of Scottish literature, from Sir Walter Scott's sweeping, panoramic social novels of the 18th century, through Robert Louis Stevenson's Jekyll and Hyde, to Nan Shepherd's beloved nature writing.
Interviews where books by James Robertson were recommended
Every year, the Walter Scott Prize highlights the best new historical novels. In 2022, the shortlist comprises four fantastic works of historical fiction that immerse the reader in the past—from 16th-century Scotland to 1920s Trinidad—while confronting universal human dramas we still struggle with today. Elizabeth Laird, one of the judges, talks us through their choices this year.