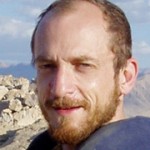 Jason Burke
Interviews with Jason Burke
Jason Burke, journalist and author of an acclaimed book on Al-Qaeda, tells us what he learnt about militants when he was caught in a firefight in Iraq—and suggests five books we should read to understand their motivations.
Interviews where books by Jason Burke were recommended
Many thought that 9/11 was the start of an Al-Qaeda assault on the West, but it turned out to be Bin Laden's Pearl Harbor – a victory that led to strategic defeat – says Peter Bergen, one of the few reporters who met the Saudi-born militant.
Global security consultant says sending armed forces into another country based on purely moral, gut feelings of good and evil is a dangerous policy-making premise. He chooses books on Iraq, Afghanistan, Iran and Al Qaeda
One out of every 122 people in the world today is displaced by conflict. David Miliband, president of the IRC, chooses five books to help us think constructively about refugees and the causes of the current crisis.