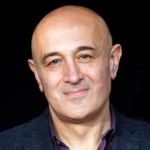 Jim Al-Khalili
Jim Al-Khalili OBE FRS is a scientist, author and broadcaster. He holds a Distinguished Chair at the University of Surrey where he is a Professor of Theoretical Physics and Public Engagement in Science. He is currently President of the British Science Association. 
Interviews with Jim Al-Khalili
The World According to Physics, theoretical physicist Jim Al-Khalili's latest book, is his "ode to physics". Here, he talks us through the books that inspired his passion for physics, in an updated interview with Five Books.
Aah, the holidays! Time to lie on the grass and read the latest novel. Or are you looking for something more demanding? Physicist and popular science author Jim Al-Khalili, who has just written his first sci-fi thriller, Sunfall, suggests some highly readable science books for those who prefer their holiday reads to be nonfiction.
Interviews where books by Jim Al-Khalili were recommended
The astronomy professor says the process of scientific discovery can be slow and messy – but that reading about some of the extraordinary personalities involved brings the history alive
The Royal Society is the world's oldest independent scientific academy, dedicated to promoting excellence in science—and that includes an annual prize for the best popular science book. Here Professor Anne Osbourn, Fellow of the Royal Society and chair of this year's judging panel, talks us through the six books that made the 2020 shortlist—and what makes them intriguing, accessible and exciting.