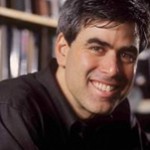 Jonathan Haidt
Jonathan Haidt is Thomas Cooley Professor of Ethical Leadership at NYU Stern School of Business. Previously, he was a psychologist at the University of Virginia. He is the author of The Happiness Hypothesis.
Interviews with Jonathan Haidt
Most of us want to be happy, and yet it's hard to achieve. Jonathan Haidt, psychologist and author of  the classic The Happiness Hypothesis, talks us through five books, old and new, to better understand happiness.
Interviews where books by Jonathan Haidt were recommended
Philosophy is sometimes assumed to be a dry, academic subject but it also has much to say about how we live, love and relate to each other. Emrys Westacott chooses the best books on philosophy and everyday living.
It's hard to understand many things about the world around us without a knowledge of the unconscious workings of the brain, argues the New York Times columnist David Brooks. He chooses five accessible books that'll get you into neuroscience as well.