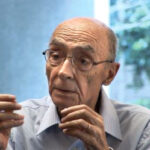 Books by José Saramago
"A few years ago, I discovered two authors whom I confess I had known nothing about before, and I discovered them in translation. One was WG Sebald and the other was José Saramago. It was the shock of my life. I was stunned by The Year of the Death of Ricardo Reis. I read it in Giovanni Pontiero's translation and I was so overwhelmed by the book – both by Saramago's vision of the world and by the beauty and skill of the translation – that I started to devour Saramago novels, one after the other." Read more...
Edith Grossman, Translator
"This book brings up the question of what conditions are necessary for sanity and what happens when you take those conditions away, and also the idea that mental or physical wellbeing are really quite narrow states. They depend on all things being equal: things like having enough resources, having physical ability and a basic sense of justice and shared logic and so on, and Blindness highlights how far any of us are from becoming mentally unwell and unstable without those." Read more...
The best books on Mental Illness
Samantha Harvey, Novelist
Interviews where books by José Saramago were recommended
The author discusses books on mental illness, explaining the conditions that keep us sane and the effects of removing them. Recommendations include Sartre, Coetzee, and John Bayley on Iris Murdoch
The award-winning literary translator Edith Grossman discusses books on and of translation that inspired her, and considers the trade-off that every translator faces, between fidelity and meaning