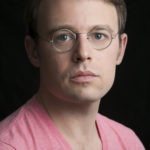 Joshua Cohen
Joshua Cohen is the author of nine books, including the novels Book of Numbers (2015) and, mostly recently, Moving Kings. In 2017, Granta Magazine included him on its decennial list of the Best Young American Writers. He was born in 1980 in Atlantic City and lives in New York City.
Interviews with Joshua Cohen
Through the writing of political novels, writers might hope to speak against their time, says the American author Joshua Cohen. Here he selects five books in which the protagonist undergoes a political education.
Interviews where books by Joshua Cohen were recommended
Any end-of-year list is necessarily partial; no one person could hope to read every novel published in the English language in any given year. That's why prize lists are so useful for guiding the casual reader's literary diet. Here, our deputy editor Cal Flyn offers a brief round-up of the books that ruled victorious during the 2022 awards season.