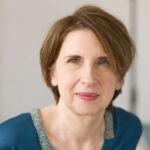 Kathryn Hughes
Kathryn Hughes is Professor of Life Writing at the University of East Anglia. She is the author of four books on 19th century cultural history, the most recent of which is Victorians Undone. She is also literary nonfiction critic for the Guardian. 
Books by Kathryn Hughes
A very well researched biography, full of a lot of surprising things. It's not known for instance, that Mrs Beeton probably died of syphilis, because her husband Sam was a philanderer… The whole nation has this picture of Mrs Beeton as being a rather portly lady with a pinny and flour on her hands, when in fact she was a young woman in her mid-20s when she started that book, with no real practical experience of cookery. The book is a very good read and has been put together by a scholar who really knows her subject.
Interviews with Kathryn Hughes
Every year the judges of the Baillie Gifford Prize pick out the very best nonfiction books, the shortlist they come up with a brilliant way to find gripping books to immerse yourself in. Here cultural historian Kathryn Hughes, one of this year's judges, talks us through the six books they chose for the 2021 shortlist, books that will draw you in, whatever the subject.
Interviews where books by Kathryn Hughes were recommended
Celebrated food historian selects five books on cooking that reveal much about our history. During the period that the French and English were at war, roast beef was all the rage and anything 'Frenchified' was suspect