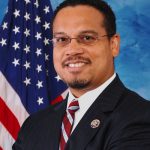 Keith Ellison
Congressman Keith Ellison represents the Minneapolis area, is co-chair of the Congressional Progressive Caucus and serves on the Financial Services Committee. A graduate of the University of Minnesota Law School, he was a civil rights and criminal defence attorney prior to entering elected office. As the first Muslim elected to the US Congress, in January 2007, he swore his oath on the Koran.
Interviews with Keith Ellison
As American congressman Keith Ellison—the first Muslim elected to Congress—enters the race to chair the Democratic National Committee, reread this interview on the cause he stands for: progressivism — and the best books to read to fully understand it.