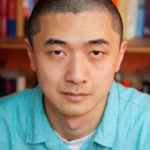 Ken Liu
Ken Liu is an American author of speculative fiction. A winner of the Nebula, Hugo, and World Fantasy awards, he wrote The Dandelion Dynasty, a silkpunk epic fantasy series (starting with The Grace of Kings), as well as The Paper Menagerie and Other Stories. He also authored a Star Wars novel, The Legends of Luke Skywalker. Prior to becoming a full-time writer, Liu worked as a software engineer, corporate lawyer, and litigation consultant. Liu frequently speaks at conferences and universities on a variety of topics, including futurism, cryptocurrency, history of technology, bookmaking, the mathematics of origami, and other subjects of his expertise. Liu's newest book is The Hidden Girl and Other Stories.
Books by Ken Liu
by Hao Jingfang, translated by Ken Liu
A highly acclaimed collection of short stories by Ken Liu. Stories in this collection include: 'The Man Who Ended History: A Documentary' (Finalist for Hugo, Nebula, and Sturgeon Awards), 'Mono No Aware' (Hugo Award winner), 'The Waves' (Nebula Award finalist), 'The Bookmaking Habits of Select Species' (Nebula and Sturgeon award finalists), 'All the Flavors' (Nebula Award finalist), 'The Litigation Master and the Monkey King' (Nebula Award finalist), and the most awarded story in the genre's history: 'The Paper Menagerie' (the only story ever to win the Hugo, Nebula, and World Fantasy awards).
If any readers are interested in a short story collections in which I delve into different genres, meditate upon the concept of what it means to be an individual connected to other individuals around you, and what it means to remain human in the face of cataclysmic change, then maybe you can check out the book.
The Best of Speculative Fiction recommended by Ken Liu
Interviews with Ken Liu
Ken Liu, the multi-award winning author of The Paper Menagerie, explains how using elements of fantasy and science fiction can help us examine deep truths about the human condition, as he recommends the best of contemporary speculative fiction.
Interviews where books by Ken Liu were recommended
Every year, the director of the Arthur C Clarke Award talks us through their six book shortlist. The 2021 crop of the best science fiction books features a "deliciously pulpy" space opera, a time travel story for young adults, and a cacophonous tale of talking animals. What they all have in common is that they are by debut authors, says Tom Hunter: they represent a new generation of sci fi writing.