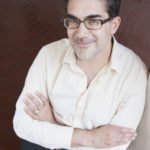 Kieran Setiya
Kieran Setiya is professor of philosophy at the Massachusetts Institute of Technology. He is the author of Reasons without Rationalism, Knowing Right from Wrong, and Midlife: A Philosophical Guide.
Interviews with Kieran Setiya
It's an observable phenomenon that the gap in life satisfaction between the very young and the very old with those in their 40s is equivalent to that associated with getting a divorce. Kieran Setiya, the MIT philosopher and author of Midlife: A Philosophical Guide, chooses the best books to counsel you through this difficult period.