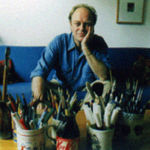 Korky Paul
Korky Paul was born in Harare, Zimbabwe in 1951 into a family of seven children. His real name is Hamish Vigne Christie Paul. He enjoyed a wild and privileged childhood in the African Bushveldt. At an early age he was reading comic books and scribbling cartoons.
Korky Paul has very quickly become a well-known figure in the children's book world and he is especially popular with the young children who read his books and are carried away into a fantasy world by the illustrations.
Interviews with Korky Paul
Korky Paul, the illustrator of the hugely popular Winnie the Witch series (among others), talks to Five Books about the pictures and books that have most inspired him.