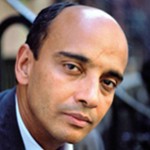 Kwame Anthony Appiah
Kwame Anthony Appiah is the Laurance S Rockefeller professor of philosophy at Princeton University and president of the PEN American Center.
Books by Kwame Anthony Appiah
Interviews with Kwame Anthony Appiah
Looking for the best novels of the year? Kwame Anthony Appiah, professor of philosophy at New York University and chair of the 2018 Man Booker Prize for fiction, gives an in-depth breakdown of the six books that made this year's shortlist, and reflects on why the novel as a form is stronger than ever.
The Princeton philosophy professor tells us about the meaning of honour, how it's won and lost, and what role it has played in the history of moral change
Interviews where books by Kwame Anthony Appiah were recommended
The concept of 'race' is misleading and inaccurate, argues Kurt Barling, Professor of Journalism at the University of Middlesex and author of The R Word: Racism and Modern Society. He recommends the best books to think about racism.
Every year the British Academy's Nayef Al-Rodhan Prize is awarded to a nonfiction book that has contributed to 'global cultural understanding.' Cambridge professor Ash Amin, chair of this year's panel of judges, talks us through the fabulous books that made the 2019 shortlist and explains why they're so important.
Books by Kwame Anthony Appiah