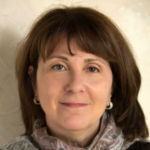 Lisa Feldman Barrett
Lisa Feldman Barrett is director of Northeastern University's Interdisciplinary Affective Science Laboratory, and holds appointments at Harvard Medical School and Massachusetts General Hospital. She has published over 200 peer-reviewed scientific papers and six academic volumes.
Books by Lisa Feldman Barrett
7½ Lessons About the Brain falls into that most wonderful of modern book genres, the 'neuroscience beach read.' Published in the US in 2020, the beautiful UK edition came out in March, 2021. Lisa Feldman Barrett, a leading psychologist and neuroscientist, spoke to us about books about emotions. If you'd like to hear her voice, she narrates the audiobook of 7½ Lessons About the Brain herself.