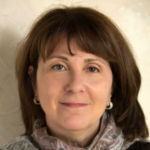 Lisa Feldman Barrett
Lisa Feldman Barrett is director of Northeastern University's Interdisciplinary Affective Science Laboratory, and holds appointments at Harvard Medical School and Massachusetts General Hospital. She has published over 200 peer-reviewed scientific papers and six academic volumes.
Books by Lisa Feldman Barrett
7½ Lessons About the Brain falls into that most wonderful of modern book genres, the 'neuroscience beach read.' Published in the US in 2020, the beautiful UK edition came out in March, 2021. Lisa Feldman Barrett, a leading psychologist and neuroscientist, spoke to us about books about emotions. If you'd like to hear her voice, she narrates the audiobook of 7½ Lessons About the Brain herself.
Interviews with Lisa Feldman Barrett
Not every culture has a word for 'fear.' Smiling was an invention of the Middle Ages. There's a lot that will surprise you about the way we process emotions, says the neuroscientist and psychologist Lisa Feldman Barrett. Here she picks five books that illustrate our understanding of how emotions work.
Interviews where books by Lisa Feldman Barrett were recommended
Many people are now worried about the impact of tech devices and social media on our brains—and believe they could be harmful to our psychological wellbeing. Psychologist Margaret Morris, author of Left to Our Own Devices, argues for a more nuanced approach and talks us through the books that shaped her own approach to technology.