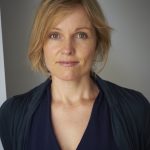 Lucy Atkins
Lucy Atkins is an award winning British author and journalist.
Interviews with Lucy Atkins
Every week, dozens of new thrillers appear in bookshops. But, often, the classic ones are the best of all. If you haven't read any of these five yet, you have a treat in store.
Interviews where books by Lucy Atkins were recommended
If you're looking for escapism, crime novels can be a good way to go. Which is strange, given that nearly all of them revolve around murder. Sophie Roell, editor of Five Books and an avid consumer of the genre, picks her personal favourites published in 2020.