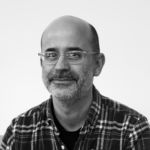 Marc Favreau
Marc Favreau is an executive editor at The New Press. He is the acclaimed author of Crash: The Great Depression and the Fall and Rise of America and co-editor (with Ira Berlin and Steven F. Miller) of Remembering Slavery: African Americans Talk About Their Personal Experiences of Slavery and Emancipation and the editor of A People's History of World War II: The World's Most Destructive Conflict, as Told by the People Who Lived Through It, both published by The New Press. He lives in New York City and Martha's Vineyard, Massachusetts.
Books by Marc Favreau
"It's very much telling a story. It's a nonfiction narrative. It goes through all the way from the early Cold War—the original breakdown in relations and how they were already spying on each other—to the development of technology through the years, till it got to a point where you can just have a single bug on your shoulder. The spying technology went from a giant computer in a room to what could be stored in a briefcase." Read more...
The Best History Books for Teenagers
Alex (age 16), Children
Interviews with Marc Favreau
Whether you want your kids to know more about the Civil Rights movement and the Vietnam War or the life of Vincent van Gogh or Dmitri Shostakovich, we're entering a golden era of nonfiction books for teens (also known as 'Young Adult' or YA nonfiction). Marc Favreau, author of the brilliant Spies, recommends some of the best.
Interviews where books by Marc Favreau were recommended
It's tricky finding history books for teenagers at an age when they are too old for children's books, but not yet ready to read long, weighty tomes with lots of footnotes. Alex, a UK-based history fan who previously chose books for us age 10, returns to Five Books to recommend his selection of the best history books for teenagers.