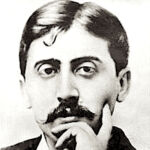 Marcel Proust
Valentin Louis Georges Eugène Marcel Proust (1871 – 1922) was a French novelist. Proust's most famous book being In Search of Lost Time.
Books by Marcel Proust
"It's very much about love. It starts out with this beautiful evocation of his mother. It's talking about parents who die and the weight that has. His whole life is very much in the context of a family. You see the character almost only in context of that significant family. It's also a wonderful translation by Lydia Davis, who is a terrific writer and a great translator." Read more...
The best books on Family Stories
Mona Simpson, Literary Scholar
"Proust's reflection on the nature of time is deep and spread over his writing. Reflect for a moment: the three thousand pages of his magnificent novel, packed with people, emotions, parfums, reflections, are not presented as happening in reality, but as emerging from the memory of the protagonist. A vast universe hidden among the folds of his brain, in the few inches between his ears. Proust's art thus brings to life a key intuition that we can find in thinkers ranging from St Augustine to Husserl, and which I think is crucial for understanding our experience: the fact that the time of our experience is only weakly related to the time of physics. Mostly, it is a space, a clearing, opened up by our memories and anticipations. What we call time in our daily life is these memories and anticipations." Read more...
Carlo Rovelli, Physicist
Interviews where books by Marcel Proust were recommended