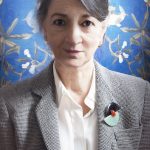 Marina Warner
Marina Warner writes fiction and cultural history. Her books include From the Beast to the Blonde (l994), the novels Indigo (l992) and The Leto Bundle (2000), and Stranger Magic: Charmed States and The Arabian Nights (2011). She has curated exhibitions, including The Inner Eye (l996), Metamorphing (2002-3) and Only Make-Believe: Ways of Playing (2005). Her essays on art will be collected in Art & Enchantment (forthcoming). In 2015, she was awarded the Holberg Prize in the Arts and Humanities. She is Professor of English and Creative Writing at Birkbeck College, a Fellow of the British Academy and President of the Royal Society of Literature.
Books by Marina Warner
Marina Warner comments: "Meanings of all kinds flow through the figures of women, and they often do not include who she herself is"
Warner looks at everything from table turning to Ouija boards, spirit photographs, the irrational in the modern age, ghosts, and monsters.