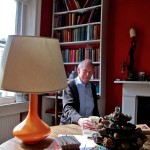 Mark Girouard
Mark Girouard is an architectural writer, a leading architectural historian, and biographer of James Stirling, as well as an authority on the country house. He was previously architectural editor of Country Life magazine, and was Slade Professor of Fine Art from 1975 to 1976. He was elected a Fellow of the Society of Antiquaries of London in 1987. His book Elizabethan Architecture was published in 2009. Elizabethan theatre, he says, wasn't at all a provincial thing but was tied into the classical world and Europe. There were ideas of geometry and proportion in the theatres, and there was this idea that the theatre was a miniature of the world. 'Elizabethan theatre was a conscious re-creation of Roman theatres,' he says.
Interviews with Mark Girouard
Leading architectural historian, chooses books on art and culture in the Elizabethan era. From CS Lewis on literature, to the fantastic embroideries at Hardwick Hall, to baked rabbit and more.
Interviews where books by Mark Girouard were recommended
Art historian and TV presenter Dan Cruickshank explains the beauty of Palladian proportions, takes us on a tour of some key English country houses and describes the poetry of Le Corbusier's Unité d'Habitation in Marseilles. He recommends the best books on 'architectural history'