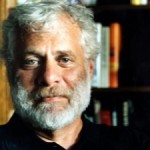 Mark Kurlansky
Mark Kurlansky is an American journalist and author. He has written many books including global histories of Cod, Milk, Salt and Paper.
Interviews with Mark Kurlansky
The bestselling author of Cod and Salt tells us about five science books he loves—from whales and snails to evolution and string theory—all of which make difficult subjects accessible
Interviews where books by Mark Kurlansky were recommended
The Australian environmental philosopher discusses man's interaction with the oceans – from whaling voyages and dynamite fishing to sea gypsies and the flourishing business of piracy
Novelists, non-fiction writers and poets all attempt to create immersive and atmospheric settings in their books—what is called a 'sense of place' in literary terms. Here, the British journalist Patrick Galbraith selects five books that explore and evoke a sense of place—including works by Joan Didion, Mark Kurlansky and John McPhee.