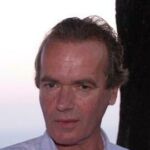 Martin Amis
Martin Amis (1949 – 2023) was a British novelist, essayist, screenwriter and memoirist.
"Martin Amis and I used to meet up before going out in the evenings in the 70s and spend an hour downing a bottle of wine and reading aloud and celebrating Larkin. I'm sure Martin would also acknowledge the curious power of Larkin in his work." Ian McEwan on the books that shaped his novels.
Martin Amis was part of a very literary family: his father was the comic novelist Kingsley Amis, author of Lucky Jim. His stepmother was Elizabeth Jane Howard, author of the Cazalet Chronicles.  His first novel, The Rachel Papers, about a sex-obsessed teenager, came out in 1973 (and was made into a movie in 1989).
Interviews where books by Martin Amis were recommended
It's an observable phenomenon that the gap in life satisfaction between the very young and the very old with those in their 40s is equivalent to that associated with getting a divorce. Kieran Setiya, the MIT philosopher and author of Midlife: A Philosophical Guide, chooses the best books to counsel you through this difficult period.