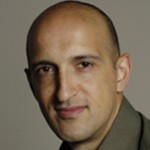 Matthew Syed
Books by Matthew Syed
"As Syed argues, we progress in all kinds of areas is by making mistakes. He was a superb table-tennis player, and he knows that every mistake that he made was a learning experience, at least potentially, a chance to improve. I think you'd find the same attitude among musicians, or in areas where practitioners are very attentive to the mistake that they make, and how those failures can teach them something that can allow them to make a leap forward." Read more...
The best books on Critical Thinking
Nigel Warburton, Philosopher
His thesis is that talent isn't what matters, it's all about hours and hours of training. The conventional view, and certainly my view, has always been that some people are supremely gifted and therefore rise to the top of sport. He says it's got little if anything to do with that and it's all to do with circumstances and the amount of practice they get.