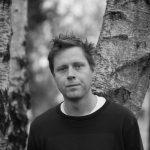 Max Porter
Max Porter is Editorial Director at Granta Books. His debut novel, Grief is the Thing with Feathers, was shortlisted for the 2015 Goldsmiths Prize as well as the Guardian First Book Award. The same novel won him the Sunday Times Young Writer of the Year award, the Dylan Thomas Prize and the Books Are My Bag fiction award. The novel has been translated into 25 languages.
Books by Max Porter
"Max Porter, the brilliant British author of experimental novels Grief is the Thing With Feathers, Lanny, and The Death of Francis Bacon, will return with Shy, the story of a troubled teenager escaping from a home for 'very disturbed young men.' Porter consistently breaks new and interesting ground in his formally inventive, emotionally vibrant novels. Unmissable." Read more...
The Notable Novels of Spring 2023
Cal Flyn, Journalist
"What struck me about this book is the way in which grief is embodied. In Max Porter's novel (or novel-poem), grief becomes 'Crow', who descends upon this family. He's variously a babysitter, a friend, a ghost, a terrorizer. He impersonates a mother; he's a joker; he's twisted. He causes chaos. That's what it captures: the absolute unpredictability, and nastiness, and then sudden benevolence of grief." Read more...
Sophie Ratcliffe, Literary Scholar
Interviews with Max Porter
Max Porter, author of Grief is the Thing with Feathers, on the books that have taken him from childhood to adulthood, the deepening shadow of nuclear war, and why he'll always be on his knees in front of Emily Dickinson
Interviews where books by Max Porter were recommended
We often think of bereavement in terms of deep melancholy or gentle sadness, but "grief behaves badly and grief is risk-taking", says Sophie Ratcliffe, Oxford literary critic and author of the memoir The Lost Properties of Love. Here, she recommends five books that may act as a balm for those who have lost someone, and says that the act of reading—any book, any poem—can be consoling.
Spring is always an excellent time for literary fiction releases, and 2023 is no exception. Here, Five Books deputy editor Cal Flyn offers a round-up of the notable new novels of the season, from buzzy debuts to hotly anticipated new releases from internationally acclaimed authors like Eleanor Catton, Han Kang, and Salman Rushdie.