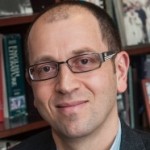 Maxim D Shrayer
The bilingual author and scholar Maxim D Shrayer was born in Moscow in 1967, to a Jewish-Russian family, and immigrated to the United States in 1987. Shrayer is Professor of Russian, English and Jewish Studies at Boston College, where he co-founded the Jewish Studies Program. He has authored and edited over ten books of criticism, biography, non-fiction, fiction, poetry and translation. Shrayer has edited and co-translated three volumes of fiction by his father, David Shrayer-Petrov. In 2007 he received the National Jewish Book Award for An Anthology of Jewish-Russian Literature and the Guggenheim Fellowship for his work on Jewish poets and the Shoah.
Interviews with Maxim D Shrayer
The Soviet writer bore witness to the horrors of Russia's World War Two and the Shoah — and deserves a place in literary history, says scholar Maxim D Shrayer. He recommends the best books by and about Vasily Grossman.
Bilingual author and translator with his pick of the five must-reads by – and about – Nabokov. Says a revisionist biography of the writer is due, which comes to terms with the Jewish influence on his work