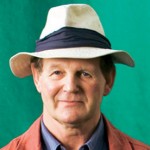 Michael Morpurgo
Former Children's Laureate and award-winning author Michael Morpurgo is widely recognised as a master storyteller and has won numerous awards for his work, including the Smarties Book Prize, the Writer's Guild Award and the Blue Peter Book Award for Private Peaceful. Michael and his wife Claire founded the charity Farms for City Children and live in Devon.
Books by Michael Morpurgo
Interviews with Michael Morpurgo
Michael Morpurgo takes us on a journey behind the scenes of five of his own books. He talks about his convictions as a writer and how he weaves fiction out of truths—experiences, accidents, history and memories—and why getting lost is often the best way to make a remarkable discovery.
The best-selling children's author, Michael Morpurgo, says books for children need to do more than amuse their readers. He picks his own favourite books written for young people.
Interviews where books by Michael Morpurgo were recommended
Books by Michael Morpurgo