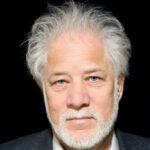 Michael Ondaatje
Philip Michael Ondaatje is a Sri Lankan-born Canadian poet, fiction writer, essayist and filmmaker. Ondaatje won the Booker Prize for The English Patient, which also became an Oscar-winning film.
Books by Michael Ondaatje
***Winner of the 1992 Booker Prize***
The English Patient is a beautiful novel by Sri Lankan-born Canadian poet Michael Ondaatje. Set in Tuscany in Italy towards the end of World War II, it goes back in time to the beginning of the war and the campaign in North Africa. If you haven't seen the movie yet, read the novel first.
"It would be impossible for me to draw the lines of where Ondaatje transitions from fact to fiction. Maybe even for him it would be impossible. He himself says: 'Truth disappears with history and gossip tells us in the end nothing of personal relationships.'" Read more...
The best books on Displacement
Michelle Jana Chan, Novelist
Interviews where books by Michael Ondaatje were recommended
Many visitors to Sri Lanka have been beguiled by its charms, from its hill towns to its beaches, its ancient temples to its friendly people. And yet, for a quarter of a century until 2009, it was torn apart by a brutal civil war. Here, Sri Lanka-born political economist Razeen Sally, author of Return to Sri Lanka: Travels in a Paradoxical Land, recommends the best books to get a better understanding of Sri Lanka and the complexities that make the country so fascinating to visit and read about.
A sense of displacement is at the heart of many of our greatest works of literature. Here Vanity Fair travel editor Michelle Jana Chan discusses five brilliant novels dealing with this theme that influenced her debut Song.
The best historical novels are those so immersive and natural in tone that their period setting is a 'by-the-way,' says Katharine Grant, the novelist and judge for the Walter Scott Prize for historical fiction. Here she discusses the six brilliant books that made the 2019 shortlist.