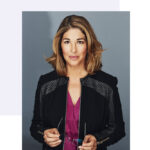 Naomi Klein
Naomi Klein is Professor of Climate Justice at the University of British Columbia. Her book The Shock Doctrine has been recommended many times on Five Books.
Books by Naomi Klein
As Nathaniel Rich reports in Losing Earth, we – the pre-eminent destabilizers – had a moment in the 1970s and 1980s when we could have turned that tide politically, and failed to. Rich's trenchant study stands with David Wallace-Wells's The Uninhabitable Earth and Naomi Klein's On Fire as the year's big wake-up calls on climate.
"This is another modern classic worth revisiting. It charts how brands have become tangled up with identity – how they stopped being markers of quality and became symbols of identity and markers of status. Logos have moved from the inside label to being splashed all over products. Having a coffee in Starbucks is an experience not a product. What you wear helps signal your worth." Read more...
The best books on Context of the UK Riots
David Lammy, Politician
Interviews where books by Naomi Klein were recommended