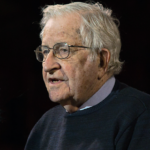 Noam Chomsky
Avram Noam Chomsky (born December 7, 1928) is know as "the father of modern linguistics". Chomsky's book Syntactic Structures is "really the birth of modern linguistics as a science of language."
Interviews where books by Noam Chomsky were recommended
When you study the philosophy of language, you study the languages of logic, mathematics, and science, and not just English, French, and German. Philosopher Scott Soames picks the best books on the philosophy of language.
The linguist argues that all language has a basis in culture and explains how Chomsky is like Freud: crucial, but crucially wrong. He chooses five of the best books on linguistics.
Which linguistics books give a good sense of what the field is about? David Adger, Professor of Linguistics at Queen Mary University of London and the current president of the Linguistics Association of Great Britain, recommends some of his own favourite books on the science of language, including a sci-fi novel.