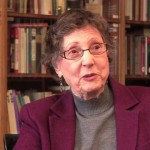 Patricia Meyer Spacks
Patricia Meyer Spacks is Edgar F Shannon Professor of English, Emerita, at the University of Virginia. She is a leading critic of 18th century English literature and has served as president of both the American Academy of Arts and Sciences and the Modern Language Association. Her annotated edition of Jane Austen's Pride and Prejudice was published in 2010.
Books by Patricia Meyer Spacks
Interviews with Patricia Meyer Spacks
The distinguished Austen scholar Patricia Meyer Spacks  tells us about the joy of rereading Jane Austen novels and the hidden layers of complexity that emerge from the writing when one does so.
Books by Patricia Meyer Spacks