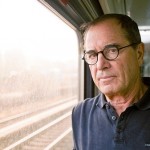 Paul Theroux
Theroux is an American travel writer and novelist, whose best known work of travel writing is perhaps The Great Railway Bazaar (1975). He has published numerous works of fiction, some of which were made into feature films. He was awarded the 1981 James Tait Black Memorial Prize for his novel The Mosquito Coast on which the 1986 movie is based.
Interviews with Paul Theroux
Travel is a leap in the dark, says Paul Theroux and one that will leave you a different person at the other end. He recommends five travel books that inspired him, from Mark Twain at sea to VS Naipaul in India
Interviews where books by Paul Theroux were recommended
Shelve your cynicism – Santa Claus does exist, and he took the time out to tell us his five favourite Christmas-time books. He's more of a pictures than words kind of guy, and he's been to Las Vegas.
Britain is a bewilderingly motley nation of phlegmatic grumblers, says the author and editor Matthew Engel – a seaside resort-going, class-conscious people haunted by loss of empire, and we can't even agree on what the country is called