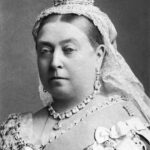 Queen Victoria
Queen Victoria (1819-1901) was Britain's sixth and final monarch from the German house of Hanover. Born Alexandrina Victoria and nicknamed Drina in her youth, she was Queen of the United Kingdom of Great Britain and Ireland from 20 June 1837 until her death. In 1876, she also became Empress of India. When Victoria came to the throne, Britain was already a constitutional monarchy which meant the king or queen had limited formal powers; Victoria's rule accelerated Britain's transition to the ceremonial monarchy we have today.
For a biography of Queen Victoria, a good, highly readable option is Victoria: The Queen: An Intimate Biography of the Woman who Ruled an Empire by Australian author and journalist Julia Baird. For a historical novel, there's Victoria: A Novel by Daisy Goodwin.
Victoria herself also wrote copiously so reading a book of her letters is a good choice.
Books about Queen Victoria recommended on Five Books include Empress: Queen Victoria and India, which was shortlisted for the Wolfson History Prize. Also picked was Ask Sir James, a biography of her doctor whom she consulted frequently.
We also have book recommendations on Victorian literature and Victorian Britain.
Books by Queen Victoria
"Victoria was completely un-Victorian. She had an extraordinarily broad-minded, humane quality to her. It's very seldom in her letters that you find what we might (incorrectly) think of as a Victorian narrowness of viewpoint. She has an amazing breadth of comprehension, which is not necessarily related to anything that she's read. Because although she did read books, she wasn't an intellectual. It's rather a sort of instinctive wisdom, possibly derived from her very bizarre childhood. It's not a childhood one would have wished on anyone – with an awful mother and sinister hangers-on in court, and the sense that apart from her old uncle William IV on the throne, she was the only one of her family left and would be Queen. A terrific self-confidence comes across in her letters. The absolute, cast-iron belief that she is number one and there is no challenge to that. One of her amusing human faults was that she clearly resented being upstaged by other people. Either by other sovereigns – she also wanted to be number one sovereign in the eyes of the world – or by celebrated personalities." Read more...
The best books on Great Letter Writers
Jonathan Keates, Biographer
Interviews where books by Queen Victoria were recommended
Queen Victoria was anything but Victorian and Lord Byron was more vulnerable than we think, says writer Jonathan Keates – who considers emails a poor substitute for a hand-written correspondence.