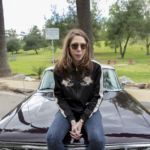 Rachel Kushner
Rachel Kushner's debut novel, Telex from Cuba, was a finalist for the 2008 National Book Award and a New York Times bestseller. Her follow-up novel, The Flamethrowers, was also a finalist for the National Book Award and received rave reviews on both sides of the Atlantic. Her fiction has appeared in the New Yorker, Harper's and the Paris Review. She lives in Los Angeles.
Books by Rachel Kushner
The Mars Room, set in a women's prison, was one of the best novels of 2018, shortlisted for the Booker Prize, and convincing the chair of the judges, Kwame Anthony Appiah, of the urgent need for prison reform. In the audiobook, Rachel Kushner narrates The Mars Room to great effect.
Narrator: Rachel Kushner
Length: 9 hours and 41 minutes
Some of the book takes place in revolutionary Italy, but much of it is set in the art world of the 1970s.
Interviews with Rachel Kushner
Rachel Kushner, author of The Flamethrowers and The Mars Room, which has been shortlisted for the 2018 Man Booker Prize, discusses the five books that have most influenced her writing, from Dostoyevsky to Marguerite Duras. She muses on the question of what fiction can offer: "A novel itself, if it is good, and effective at whatever its particular aesthetic and philosophical aim is, can answer the question best, so that a novelist doesn't have to."
Interviews where books by Rachel Kushner were recommended
The writer and journalist Hermione Hoby's highly acclaimed first novel is set during a New York heatwave. Here she picks five books inspired by this capacious, overstated, indomitable city and discusses how it shaped her as a writer.
Looking for the best novels of the year? Kwame Anthony Appiah, professor of philosophy at New York University and chair of the 2018 Man Booker Prize for fiction, gives an in-depth breakdown of the six books that made this year's shortlist, and reflects on why the novel as a form is stronger than ever.