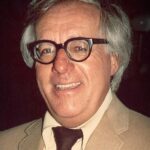 Ray Bradbury
Ray Douglas Bradbury (August 22, 1920 – June 5, 2012) was an American author. He is most well known for Fahrenheit 451. He wrote other science fiction and horror books, many of which have been recommended on Five Books.
Space historian Andrew Chaikin calls Bradbury "the poet laureate of space" in his interview on the best books on space exploration.
Interviews where books by Ray Bradbury were recommended
Space historian Andrew Chaikin tells us about five books that capture the thrill and achievement of our venturing into the great beyond. He picks the best books on space exploration.
The sci-fi author tells us how the genre evolved from "gosh-wow" novels of the 1920s into some of the most inventive fiction being written today. He recommends five books sure to get new readers hooked
Award-winning author Philip Reeve talks us through the science fiction and fantasy books that shaped him and his work in profound ways; among indubitable classics are vibrant lesser-known works awaiting our discovery.