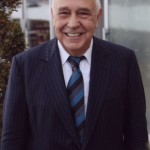 Robert Skidelsky
Lord Skidelsky is Emeritus Professor of Political Economy at the University of Warwick, and is known for his prize-winning three-volume biography of the economist John Maynard Keynes. He was made a life peer in 1991 and is a Fellow of the British Academy. He is a director of the Moscow School of Political Studies and founder and executive secretary of the UK/Russia Round Table. He is chairman of the Centre for Global Studies and a trustee of the Manhattan Institute. His account of the current economic crisis, Keynes: The Return of the Master, was published by Penguin Allen Lane on 3 September 2009.
Robert Skidelsky official website
Robert Skidelsky on Wikipedia
Robert Skidelsky at Warwick
Books by Robert Skidelsky
Interviews with Robert Skidelsky
Keynes biographer Robert Skidelsky recommends the best books about one of the most important economists of all time, John Maynard Keynes.
Interviews where books by Robert Skidelsky were recommended
The former banker and author of 12 books on economics says that over the last 30 years economics has been colonising every science. "Even something like education all comes down to incentives"
Books by Robert Skidelsky