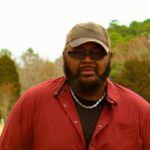 S.A. Cosby
S.A. Cosby is a Virginia-based writer of noir mysteries. Cosby's books are known for their unforgettable characters, intense plotlines, and vivid descriptions of rural American life.
Books by S.A. Cosby
***Shortlisted for the 2022 Edgar Allan Poe Awards***
***Shortlisted for the 2022 CWA Gold Dagger***
If you loved S.A Cosby's last book, Blacktop Wasteland, you'll enjoy this one. The characters are different, but the chief protagonists are again ex-cons, sucked back to the dark side by circumstances beyond their control. You, the reader, will again wish them well as they commit gruesome murders. As a mystery, however, this latest book, Razorblade Tears, is much more satisfying: it's driven along not only by memorable characters but also by the plot.
"Razorblade Tears is a moody Southern thriller with fast-paced action, the story of two men—one black, one white, both ex-cons—who team together to solve the murder of their sons, who were married to one another. It's a gritty tale that looks into questions of race, poverty, and other bias through the lens of both violence and compassion." Read more...
Tosca Lee, Novelist
*** 2021 CWA Gold Dagger Highly Commended***
Blacktop Wasteland is a thriller more than a mystery, but deserves a mention because it was highly commended by the Crime Writers' Association in its 2021 Gold Dagger awards. The chief protagonist is Bug (real name: Beauregard), a car mechanic and hotshot driver, and your heart starts sinking early in the book as his efforts to stay on the straight and narrow falter under financial pressure—even as he tries to be a good husband, dad and businessman. Still, you quickly get sucked into the action and feel oddly empowered by him and just how smart and talented he is, rooting for him even as he commits heinous crimes.
"Let's just talk a moment about S.A. Cosby's incredible voice and unforgettable characters. Don't tell me for a moment Bug—or any of the other characters who grace these pages—are not real people. I refuse to believe it. They are too multi-dimensional, too flawed, sympathetic, and too perfectly human. And then there's the story: gritty, dynamic noir by an author in complete command of his craft. As an author, I read mastery like this with equal parts awe and envy." Read more...
Tosca Lee, Novelist
Interviews where books by S.A. Cosby were recommended
Looking for a fantastic new thriller to read? We asked Tosca Lee, the bestselling author, to talk us through the International Thriller Writers 2021 shortlist. With their amazing characters, palpable tension, unique voices and incredible plot twists these thrillers achieve what every reader is looking for: a book they can't put down.
Every year, the International Thriller Writers—an honorary organisation of authors—showcases the best new books in the genre at their annual awards. Here, bestselling author and the organisation's vice-president Tosca Lee talks us through the six-strong shortlist of books, and explains why 'Southern noir' writer S.A. Cosby won the title for the best thriller of 2022—only a year on from his last triumph.