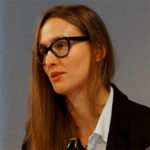 Samantha Rose Hill
Samantha Rose Hill is a writer and Hannah Arendt specialist, formerly assistant director of the Hannah Arendt Center for Politics and Humanities at Bard College. In addition to a biography of Hannah Arendt, she is the author of Hannah Arendt's Poems (2022). You can find her writing in the Los Angeles Review of Books, Public Seminar, OpenDemocracy, Theory & Event, Contemporary Political Theory, and The South Atlantic Quarterly.
Books by Samantha Rose Hill
***🏆 A Five Books Book of the Year ***
"This book is brilliant. It's written by Samantha Rose Hill, who must know as much as anyone about Hannah Arendt. She's dived into Arendt's surviving papers, notebooks, and even poetry, spending many hours in the archive. And what's so great about this as a biography is that Hill has done something that biographers rarely do—she's been highly selective in what she's included. As a result, we don't get the feeling of being overwhelmed by details of an individual life but rather get to understand what really mattered." Read more...
The Best Philosophy Books of 2021
Nigel Warburton, Philosopher
Interviews with Samantha Rose Hill
Unimpressed by the response of philosophers to the rise of Nazism in her native Germany, Hannah Arendt rejected the notion of being a philosopher and said she was a political theorist. Samantha Rose Hill, writer and formerly assistant director of the Hannah Arendt Center at Bard College, talks us through Hannah Arendt's life and work—and suggests which books to read if we want to learn more about her and her ideas.
Interviews where books by Samantha Rose Hill were recommended
Nigel Warburton—the philosopher, broadcaster and creator of the popular Philosophy Bites podcast—selects five of the best public philosophy books published in 2021, including a defence of righteous rage, an examination of the concept of 'time management,' and an intellectual biography of the political philosopher and Holocaust survivor Hannah Arendt.
Books by Samantha Rose Hill