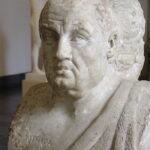 Seneca
Seneca (Lucius Annaeus Seneca the Younger) was a Stoic philosopher of Ancient Rome. His works have influenced readers through the ages.
"None of those tragic figures would have spoken like that if Shakespeare had not gone to school with Seneca." Robert S Miola on Shakespeare's sources.
Books by Seneca
Seneca (translated by Emily Wilson)
"Letters to Lucilius, or The Moral Epistles, is in some ways Seneca's philosophical testament because it conveys his mature thought." Read more...
Massimo Pigliucci, Philosopher
"I personally take from Seneca and the other Stoics a very interesting attitude towards negative emotions and situations. They had the insight, which later recurs in cognitive behavioural psychology, that it is your beliefs about your circumstances that determine the distress you feel about them, not the circumstances themselves." Read more...
The best books on Happiness Through Negative Thinking
Oliver Burkeman, Journalist
Interviews where books by Seneca were recommended
You won't become happy by trying to achieve happiness so why not embrace the full repertoire of human emotions? Guardian columnist Oliver Burkeman recommends the best books on negative thinking.
The Stoics offer us valuable strategies of thinking about and dealing with hardships that remain relevant for modern society, Massimo Pigliucci, Professor of Philosophy at the City College of New York and practising Stoic, told us in 2016. We were interviewing him about the best books to read to get a better idea of what Stoicism is all about and why some people find the ancient philosophy, famously practised by the Roman emperor Marcus Aurelius, comforting today. This week our philosophy editor, Nigel Warburton, caught up with Massimo and asked him about new Stoicism books that have come out since they first spoke–and why the philosophy remains so popular.
William Shakespeare has a strong claim to be the most influential writer of all time. But whose works influenced him? And how? Robert S Miola discusses the breadth of Shakespeare's reading, the vexed question of how we can reconstruct what he read, and the staggeringly innovative ways that Shakespeare shaped his sources