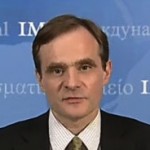 Simon Johnson
Simon Johnson is an economist and author. He is former chief economist for the IMF, Ronald A Kurtz Professor of Entrepreneurship at MIT's Sloan School of Management and a senior fellow at the Peterson Institute for International Economics. He is co-author, with James Kwak, of 13 Bankers and White House Burning. They also co-founded the economics blog The Baseline Scenario
Books by Simon Johnson
Jump-Starting America is the ambitious new book written by two distinguished MIT economists, Jonathan Gruber and Simon Johnson. They examine why the US economy has stagnated over the past two decades, including in the innovation sector, because of the collapse in Cold War defense spending. They propose their nationwide plan to "jump-start" it again, creating more jobs and reducing inequality in the process.
As the full title — Jump-Starting America: How Breakthrough Science can Revive Economic Growth and the American Dream — indicates, this book is a call to action for strategic investing in science and technology. This would amount to reversing the federal cuts undertaken in the 1980s, and if orchestrated in the right way, returning (or even exceeding) postwar levels of economic prosperity.
Jonathan Gruber spoke to Five Books about the best books on public policy.
Simon Johnson spoke to Five Books about the best books on why economic history matters.
One of the really big issues raised by this book is whether we are actually living in a kind of oligarchy of the sort we attribute to places like Russia.
Interviews with Simon Johnson
History contains useful warnings and lessons and today's economic policymakers would do well to heed them, says the IMF's former chief economist, Simon Johnson. He recommends books showing why economic history matters.
Interviews where books by Simon Johnson were recommended
The US, the UK and many other countries around the globe have become far less equal over the past 30 years. It's important we understand how and why this happened, and what it means for our societies, says Daron Acemoglu, a professor of economics at MIT. He recommends the best books to get a better understanding of inequality.
The author of "The End of History" says the financial crisis revealed a great deal about the nature of America's political and economic system. The shame, he says, is that opportunities to change it are now being ignored.